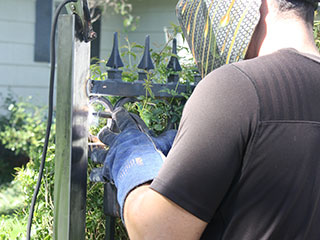 Our company, Garage Door Repair Mundelein, has been providing local homeowners with excellent services for well over a decade now. But repairing and installing garage doors isn't all we do. We also offer a variety of gate related services, both commercial and residential, and our technicians will be more than happy to come to your rescue if your sliding or swing gate is suffering from any type of malfunction. You can rest assured that when you call us, you're reaching a team of professional technicians who will stop and nothing to get the work done perfectly.
Regular Opener Maintenance
Much like a garage door, gate systems also become automated via an electric opener unit. These units can suffer from a variety of different issues, however. Their limit switches could be unadjusted, which will make the gate slam into its track, or their motor gears or circuit board could suffer a malfunction, which will make the gate inoperable, or leave it wide open. When something like this happens, our technicians can help. We'll repair the damaged component or replace it with a suitable one that will function just as well, if not better.
Residential And Commercial
Whether you are a private resident homeowner, or a business owner looking to add prestigiousness as well as security to their office building or factory, we can help. Furthermore, we also provide routine gate maintenance that can help make sure your system stays safe to use, and that all of its features are functioning correctly.
Installing and Repairing Intercom System
Intercom systems can be incredibly valuable, as they allow gate owners to communicate with visitors without having to physically be anywhere near their gate. Whether you have a Linear, a Doorking, an Aiphone, or any other brand of an intercom system, our technicians can help you when something goes wrong. If you don't have such a system installed, we can help you choose an audio or video based intercom unit that will completely satisfy your needs.
Contact Us Today
There's no reason for you to make an uninformed decision. Before buying a new gate or any type of access control unit, give our experts at Garage Door Repair Mundelein a call. We can help you choose the perfect system for your home or business. If your existing gate system needs to be repaired, then we can help you with that too. Call us today.