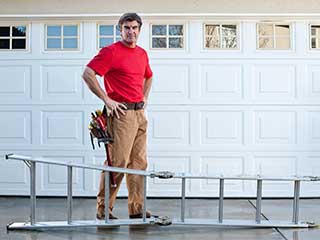 In addition to ensuring your garage door continues to work properly, there are a number of other benefits to having our Garage Door Repair Mundelein team perform regular maintenance. When you rely on our professionals, you're not going to be surprised by sudden major malfunctions and you'll keep your door from wearing down prematurely.
You'll Save Money
Having our teams come out and perform an inspection can save you a lot of money in the long run. Without regular maintenance, alignment and rust issues can snowball into fairly costly things to deal with. During a maintenance visit, our technicians will lubricate and re-adjust any components there and then. This way you'll avoid sudden major repair surprises and you'll prolong the life of the various electro-mechanical parts required to make your garage door work.
Your Home Will Be Safer
Problems with safety sensors can become very dangerous if they are unable to detect objects or people in the path of the door. Similarly, a spring that snaps suddenly can also be really dangerous for anyone around it at the time. During a maintenance visit, we'll thoroughly test the safety of your system and identify any minor repairs needed to keep it functioning safely.
It Helps with Curb Appeal
Even if you can live with the fact that your garage door isn't beautiful to look at, a garage door that isn't maintained properly can significantly lower the aesthetic value of your home. The regular maintenance we perform will help to ensure your garage door continues to look as great as it operates.
Call us today to set an appointment with one of our experts and feel safe in the knowledge that you shouldn't have to worry about major repair scares in the future. We aim to keep your door looking and working as good as new!
In addition, we offer:
Part Replacement & Lubrication
Belt Drive Garage Door Openers
Oil Tempered Torsion Springs
New Garage Door Installation