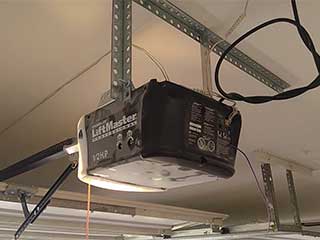 When choosing a new garage door opener, there are a lot of different factors to consider; the door's weight, the level of operational noise, and the various safety and security features each model has to offer, to name a few.
Each Type Has a Different Noise Level
Garage door openers can usually be divided into three main types, each one has different advantages and disadvantages. As far as the level of noise goes, a belt-drive opener is the quietest type. It operates smoothly using a conveyer belt and can be perfect for homes with a garage attached to a bedroom. Chain-drive models, on the other hand, are quite noisy and can rattle and clink loudly while they're being used.
The Safety Features
Every modern garage door opener must have some type of reversal system in order to prevent the door from closing on a person or object. The most common safety feature used today is a pair of photo-electric eyes, also known as the safety sensors. These "eyes" are attached to the bottom of the garage's opening, one on each side. They communicate with each other via an infra-red beam. If that beam is interrupted, i.e. an obstacle is blocking the door's path, then the system will go into reverse, in order to prevent the door from hitting the obstacle. As you can see, making sure your opener is installed correctly is important, as your safety could be compromised if these sensors become misaligned.
The Leading Brands
When it comes to choosing a model form a reputable company, the selection is very wide. The main name brands in the industry are Genie, Liftmaster, that are known for the reliability of their products, Clopay and Chamberlain, that are among the more veteran manufacturers out there, and Sears and Marantec, and Craftsman, that offer great products as well. The choice ultimately comes down to your budget restrictions and your specific needs.
Common Opener Malfunctions
Since garage door openers are complex units, comprised of moving hardware parts and electrical circuitry, they can suffer from a variety of different issues. Motor gears can wear out and need to be replaced, circuit boards can fry, or some of their electrical wires can detach and need to be repaired. The pulley system can also become loose, and, for example, if you have a chain-drive opener, the chain section itself can become slack. Regardless of what the problem is, you can rest assured that our professional technicians have seen it all before. We've been operating in this field for over a decade, and we can repair or replace any damaged or malfunctioning component.
Contact Us Anytime
Whether your current opener is acting up and you want it to be repaired or maintained, or you're looking to buy a new opener and have it installed by professional technicians, we're the team to call. Call our experts at Garage Door Repair Mundelein for any related need.
But wait, there's more! We also offer:
Maintenance Garage Door Torsion Spring
Door Opener Troubleshooting Services
Broken Garage Door Spring Replacement
Broken Garage Door Track Repair