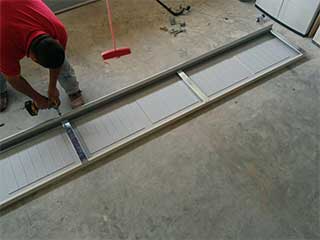 If you are having problems with your garage door, or find that it's simply just not working the way that it should, give us a call for repair services. Our mechanics are highly trained and always take the necessary tools and equipment with them when they go out on a job - we can guarantee the best possible service. There are no jobs too large or small and one phone call to us will ensure that any garage door emergency is quickly taken care of.
Unable to Open Door
If you are unable to open your garage door, you obviously won't be able to get your car in or out of your garage. This can be especially stressful if you are supposed to be heading to work or another important engagement. We provide emergency services so if you find yourself in this situation, give us a call right away. We'll get to your home as quickly as possible, fix the problem, so you can get back to the things you need to.
Broken Springs and Cables
The springs and cables are incredibly important to the overall operation of garage doors. When something goes wrong here, they can become very dangerous so it's important that you leave the repair up to our experts. If you suspect that a spring or cable is about to break, or can see that one has already broken this will leave your door inoperable - call us for help.
Additional Garage Door Repairs
In addition to the above problems, we can help with all kinds of other garage door malfunctions. From loud squeaking doors to ones that do not shut completely, our trained professionals can help troubleshoot and fix your problem.
We excel at providing great service at any time, no matter the job, and are happy to ensure your unit is working the best that it can. Don't hesitate to call Garage Door Repair Mundelein even in an emergency! We offer a prompt and reliable service to our customers and will have you on your way in no time.
We also offer:
Garage Door Troubleshooting Services
Garage Door Torsion Spring Replacement